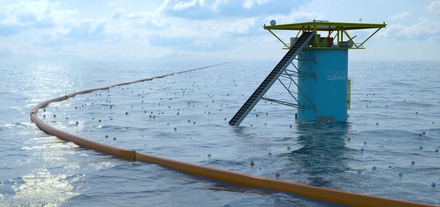 Dive Brief:
The Ocean Cleanup, an organization seeking to rid our waters of plastic waste, has ambitious plans to build a massive "barrier" in the ocean that would draw trash into a concentrated area to then be collected and disposed of properly. The organization plans to build the wall in the water between Hawaii and California by 2020.
The barrier, which will appear as a large "V" shape in the water, will "take advantage of the natural movement of ocean currents," drawing debris to the center of the barrier and allowing for 100,000 times the concentration of trash, according to HuffPost.
The project is being executed based on data from the organization's "mega exhibition," in which crews from The Ocean Cleanup took nearly 30 ships into the waters to track volume and location of plastic. "[It was] the first time anyone's ever quantified the large debris — things like crates, bottles, buoys and nets," Founder Boyan Slat told HuffPost.
Dive Insight:
The project that The Ocean Cleanup is planning can vastly impact the future of our ecosystem. Currently, there are 5.25 trillion pieces of plastic in the world's oceans and, in 10 years, the amount of plastic entering the water could double to an alarming 8 million tons. A recent analysis published by the Proceedings of the National Academy of Sciences found that nearly 90% of seabirds have plastic in their stomachs — a number that is expected to grow to 99% by 2025.
This issue is one that consumers need to be in-tune with in order for actions to change. "We hope to make millions of people aware of the problem itself, as well as making the problem visible," Slat told The Huffington Post. "By showing there is a way, we can make it better."
Read more: http://www.wastedive.com/news/the-ocean-cleanup-plans-to-build-62-mile-wall-in-pacific-to-collect-trash/405114/