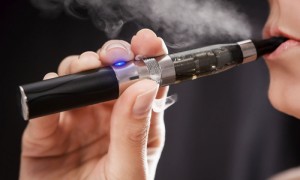 The gradual demise of traditional cigarettes has sparked some new health concerns related to the rising popularity of electronic cigarettes, as well as new "designer drugs" like synthetic cannabis. Designer drugs are synthetic analogs of illegal or prohibited drugs, devised to circumvent drug laws.
The dangers of e-cigs may not be as obvious as those of traditional smokes, but according to CDC, accidental poisonings are soaring, most notably among small children. More than half of the poisonings have been occurring in children age five and younger.1
E-cigarettes may be even more toxic than traditional cigarettes-in fact, under certain circumstances they can be downright deadly. The e-cig liquid is absorbed into your system much more quickly than tobacco smoke, even after dilution.
For children to be poisoned by a traditional cigarette, they must eat one. But for e-cigs, all it takes is just touching the liquid, as the chemicals are readily absorbed through their skin and even their eyes. The toxic effects of synthetic cannabis are also proving deadly.
For related articles and more information, please visit OCA's Health Issues page and our Appetite For a Change page.