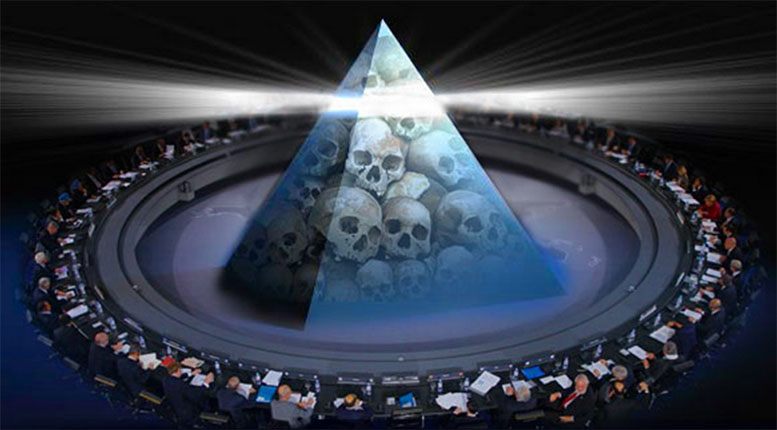 By Catherine Frompovich
If ever there were doubts about so-called "conspiracy theorists" reports regarding world population reduction plans and efforts, you now can put them aside and take a long-over-due reality check on what's been in the works since the early 1970s under the "tutelage" of none other than globalist Henry Kissinger!  Mr. Kissinger is Jewish; didn't he learn anything about Adolph Hitler's attempted reduction of the Jewish race?  Shame on you, Mr. Kissinger!
The main testament to the globalists' population controls plans for reducing humanity literally were set in stone in the 1980s, i.e., granite monoliths known as the Georgia Guidestones, whose first "new commandment" of the New World Order is:
Maintain humanity under 500,000,000 in perpetual balance with nature.
Folks, that's half a billion humans, whereas the Planet's current population is 7.6 BILLION, which means a heck of a lot of us have to be "offed" the planet using some means—deleterious or otherwise, which probably will come in the way of weaponized diseases from technology "advances" which unbelievably gullible people accept as their god—a reality the NWO elites want desperately to be accepted: Technology/science is god.
The Controllers' Apparent Plans
The world's controllers, collectively called the "Illuminati," include many pedophile government officials in all countries, especially the USA and the UK, and groups like the Bilderberg, the Bohemian Grove crowd, secret societies and other control freaks who want to recreate humans into their idea of a "better race" of cyberborgs [an alien-robot mix?] or transhumans who have computers in or for brains and can be programmed to believe and act as automatons 'built' by technology but with man-made souls!
That's the plan, folks, and you can take it to the bank, as they say.  I've been researching this sick plan for quite a while and it's getting out of hand, I think.
Learn More: https://www.activistpost.com/2018/02/fact-population-control-efforts-since-1970s-per-declassified-usa-document.html?